Colors Bepannaah latest news, Bepanah serial gossips
Fans of Colors popular serial will have to gear up for a special episode of Bepanah (Bepannaah) with an interesting entry of popular TV actress Hina Khan during the upcoming anniversary party track.
In the upcoming episodes of Bepanah, we will see that Aditya (Harshad Chopda) will surprises Zoya (Jennifer Winget) with a romantic ambiance. He will get filmy and tell her that he loves her Bepannaah.
Aditya will proposes Zoya for marriage. He asks her if she will marry him and give a name to their relation. Zoya accepts his proposal.
Later, viewers will see that Aditya and Zoya will be getting married in the anniversary party. Hina Khan attends an anniversary party and performs on a song.  Zoya welcomes Hina. Hina tells Zoya that Vatsal and Ishita are her friends and invited her in the party. Zoya introduces her childhood friend Hina to Aditya. Hina compliments their jodi.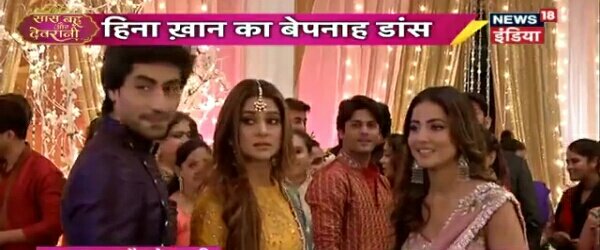 Further, the anniversary party will see a dramatic twist. A goon reaches there and takes a waiter's disguise to kill Zoya. Zoya spots him with the knife and shouts. Aditya rushes to help Zoya. He saves Zoya, while the goon runs away.
Zoya tells Aditya that she is scared, she doesn't feel good. She asks him to take her home. Aditya comforts her and tells Zoya to enjoy the performances and forget the fears.
Apparently, Anjana would have sent the goons to kill Zoya. Aditya doesn't know his mother's real face and that Zoya's life is in danger?
How will he find out the truth and the real culprit? We will have to wait and watch!
Keep reading this space for latest gossips and spoilers of Bepanah.